Coconut Milk Thai Lime Shampoo Bar
Regular price

Sale price

$10.00

Unit price

per
Moisturizing Formula Great for Normal to Dry Hair
--
Weight: 4.5-5.0 oz.
Moisturizing Formula Great for Normal to Dry Hair
-----
Customer Feedback:
"This is a superb shampoo bar. I've discovered that I have a sensitivity to SLS and detergent shampoos and your shampoo bar has helped my poor scalp on top of making my hair feel great. Just so you know, I have very long hair fine hair, but lots of it and I don't need an apple cider rinse or conditioner after using this coconut milk soap. I think this is impart to you not including palm oil in your recipe, which I think palm gives a yucky feeling to my hair." - Tiffany
"I just got to use the coconut milk Thai lime organic shampoo bar this morning and I have to say it is incredible! I love the smell! It cleaned my hair super well and left it really moisturized. I have been using only baking soda and ACV for a few months now which unfortunately builds up in my hair. From now on I will only use this bar to remove the buildup! Thank you so much for making such an amazing organic product that I do not have to feel guilty about using!" - Sarah 5/13
-----
Luxurious coconut milk, organic cocoa butter, and Thai lime leaf essential oil all infused with certified organic oils make this organic shampoo bar cleansing and extra conditioning.
Coconut Milk: Used in Asia as a moisturizing hair treatment. Thick coconut milk may help promote hair growth, and prevent hair damage.
Argan Oil: A specialty oil from Morocco, this nut-extracted oil protects and repairs damaged hair follicles. Rich in omegas and vitamin E, argan oil is great for all kinds of hair conditions.
Wheat Germ Oil: Rich in vitamins D, A and E, and protein. Commonly used to help prevent hair loss.
Organic Jojoba Oil: Great scalp cleanser and can stimulate hair follicle growth
Castor Oil: Anti-bacterial and anti-fungicidal. Rich in Fatty Acids to help protect from dry scalp and hair loss.
Organic Coconut Oil: One of the best natural oils for your hair! Used in Asia for years as a hair treatment for damaged hair.

Ingredients:
Certified Organic Extra Virgin Olive Oil
Certified Organic Coconut Oil
Wheat Germ Oil
Castor Seed Oil
Certified Organic Cocoa Butter
Certified Organic Sunflower Oil
Certified Organic and Fair Trade Shea Butter
Certified Organic Jojoba Oil
Argan Oil
Sodium Hydroxide, Distilled Water
Organic Coconut Milk
Makrut Lime Essential Oil
Rosemary Extract

Shipping

We ship via USPS Mail. Please give 3-5 business days to process and ship out your order.
Share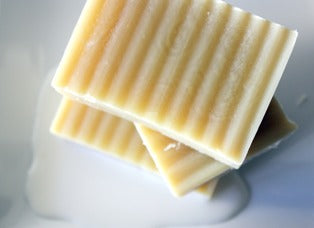 Love these shampoo bars
Love the scent of these shampoo bars. Lots of lather and rinses clean. I'm a fan!