Jasmine Mint Lotion Bar
Regular price

Sale price

$10.00

Unit price

per
Fragrant True Jasmine, Great Lotion and Solid Perfume!
Lotion without the Chemicals, Water, and Alcohol! This lotion bar is NOT made with fragrance oils. Pure Jasmine Floral Wax from jasmine flower petals is blended in with a small amount of Mint Essential Oil. This lotion bar is hefty and will last months!
Simply allow your body's heat to melt this bar and massage.
With all products, no fragrance oils are used, and no chemical preservatives.
Rice Bran Oil – Anti-aging, Stimulates production of collagen
Organic Coconut Oil – Moisturizing, Anti-bacterial
Organic Shea Butter – Rich in Vitamins E, Healing properties
Organic Jojoba Oil – Regenerative benefits, Great for problematic skin
Organic Olive Oil – Benefits dry skin, Anti-inflammatory
Vitamin E – Antioxidant, Protects from damaging free radicals
~
Ingredients:
Candelilla Wax
Rice bran oil
Certified Organic Coconut Oil
Certified Organic and Fair Trade Shea Butter
Certified Organic Extra Virgin Olive Oil
Certified Organic Jojoba Oil
Jasmine Floral Wax
Mint Essential Oil
Essential Oil Blend

Packaged in reusable tins. | Sealed with fully biodegradable cellulose bands.
Refills available.
reuse/zero waste tip: Packaged in reusable tin with clear top. Simply take off both labels and reuse. You can add a magnetic strip to the back and stick on the refrigerator. The clear top allows you to see the contents. (Great for paper clips!)

Shipping

We ship via USPS Mail. Please give 3-5 business days to process and ship out your order.
Share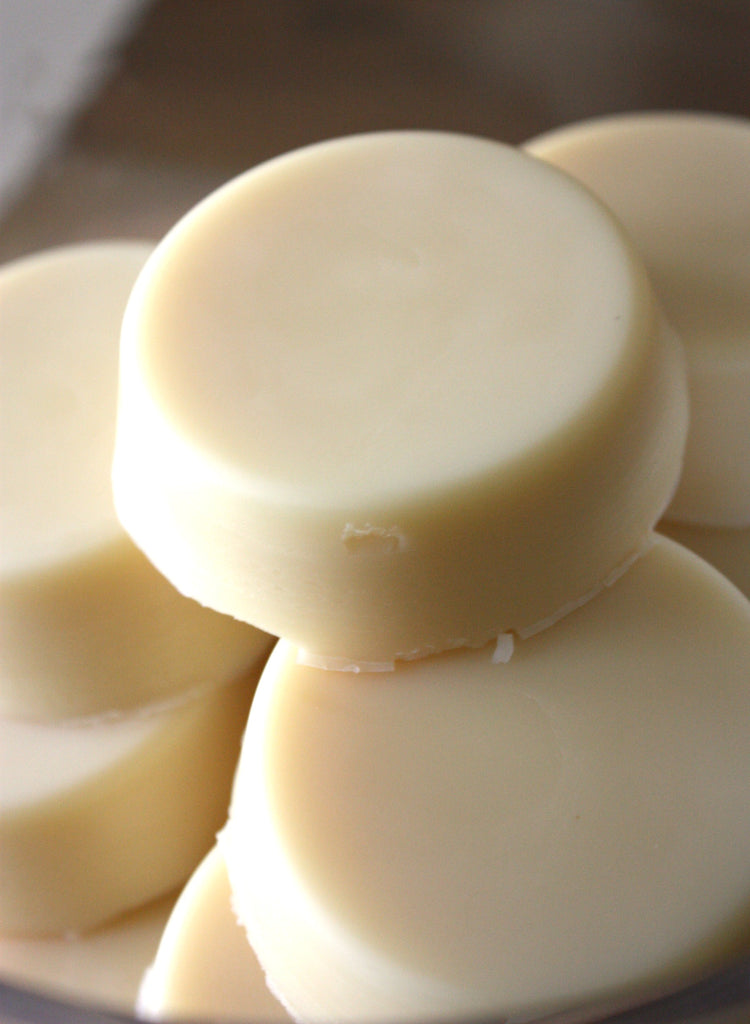 Excellent lotion bar!
I love all the lotion bars from this shop! I've ordered several of them, and they are all excellent quality and very moisturizing. This one has an amazing scent, I love it!
Feel like Cleopatra floating on the Nile
I fell in love with strings of fresh jasmine and the endless glasses of fresh mint tea in Egypt years ago. Now, my skin drinks in this amazing cream from this ("lotion" does NOT begin to describe its deliciousness) bar. It not only soaks into my skin quickly, it seems to transform my aging skin into an echo of the smooth suppleness of years ago. And the fragrance! I actually don't care for most perfumes and the fragrances used in even the most expensive bath and beauty products -- most trigger my allergies. But not this Jasmine Mint Lotion Bar! Or the Lavender Chai Bar, which was the first I tried. Both are fabulous. The Lavender sits on my desk, giving me a calming hint of lavender and my hands a soothing drink of cream throughout the day. The Jasmine Mint starts and ends my day. And it transports me back to the Egypt I fell in love with.