Papaya Ginger Lemongrass
Regular price

Sale price

$7.00

Unit price

per
Unearth Malee Bestseller! Antibacterial Lemongrass and Ginger Essential Oils with Certified Organic Non-Irritating Jojoba Oil
Available wrapped in flower-seeded paper ($7) or unwrapped/no label ($6.75).
--

Bestselling soap. Slather your body with this rich, creamy body soap extravagantly blended with organic lemongrass powder and papaya swirls. The scent will enrich your experience with the fusion of lemongrass and ginger essential oils, while organic jojoba oil moisturizes your skin.
This ultimate bestseller is made with certified organic oils of extra virgin olive oil, coconut oil, shea butter, sunflower oil, castor oil, and jojoba oil.
Lemongrass Essential Oil - anti-fungal, anti-bacterial, anti-inflammatory, great for acne, and oily skin. A study was done on the inhibition of MRSA by essential oil diffusion. They investigated 91 essential oils, and found lemongrass essential oil to be the most effective.
Unearth Malee is an eco-friendly Asian inspired body care company committed to using all natural ingredients, essential oils, and organic vegetable oils. These Thai-Asian collections are infused with exotic herbs and spices, contain no chemical preservatives, no animal products, and no synthetic fragrances. No palm oil is used in hopes of raising awareness of the devastating effects palm oil has on the deforestation rates of Indonesia and Malaysia.
Also, the outside wrapping of the soap bar is made of plantable flower seeded paper. Simply, soak in water, plant, and watch the flowers grow!
Ingredients:
Saponified Oils of 
Certified Organic Extra Virgin Olive Oil
Certified Organic Coconut Oil
Certified Organic Shea Butter
Certified Organic Jojoba Oil
Certified Organic Sunflower Seed Oil
Castor Seed Oil
Certified Organic Lemongrass
Green Papaya Powder
Ginger Essential Oil
Lemongrass Essential Oil


Shipping

We ship via USPS Mail. Please give 3-5 business days to process and ship out your order.
Share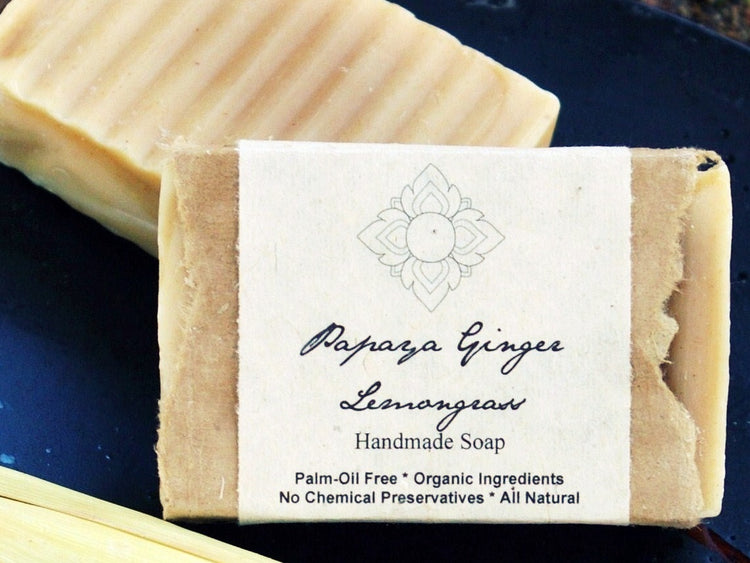 One of my favorites
The papaya ginger lemongrass bar is one (of many) that I always reorder. The scent is a perfect blend; no one ingredient overshadows the others and I love the natural germ fighting capabilities of the lemongrass. If possible, I'd give it ten stars. ❤️
Love this soap!
I've been ordering from Unearth Malee for years now and am always delighted. Gentle on the skin, lovely non-cloying scents. This one is probably my favorite.