Rosemary Mint Green Tea Shampoo Bar
Regular price

Sale price

$10.00

Unit price

per
Perfect Starter Shampoo Bar! Great for Dry Scalp Conditions.
--
4.5-5.0 oz.
Formulated to encourage a healthy scalp.
Made with nutrient rich oils great for hair:  Argan Oil, Wheat Germ Oil, Jojoba Oil, and more!
Argan Oil: A specialty oil from Morocco, this nut extracted oil protects and repairs damaged hair follicles. Rich in Omegas, and Vitamin E Argan Oil is great for all kinds of hair conditions.
Wheat Germ Oil: Rich in Vitamins D, A and E, and protein. Commonly used to help prevent hair loss.
Organic Jojoba Oil: Great scalp cleanser, can stimulate hair follicle growth
Castor Oil: Anti-bacterial, Anti-fungicidal, Rich in Fatty Acids to help protect from dry scalp and hair loss.
Organic Sunflower Oil: Contains Vitamins A, K, D, and E. Can help prevent dry hair, promotes shiny, healthy, and soft hair..
Organic Coconut Oil: One of the best natural oils for your hair! Used in Asia for years as a hair treatment for damaged hair.
Rosemary Essential Oil: Used to stimulate hair growth.
Ingredients:
Certified Organic Extra Virgin Olive Oil
Certified Organic Coconut Oil
Wheat Germ Oil
Castor Seed Oil
Certified Organic Sunflower Oil
Certified Organic and Fair Trade Shea Butter
Certified Organic Jojoba Oil
Argan Oil
Sodium Hydroxide, Distilled Water
Essential Oil Blend
Organic Green Tea
Organic Menthol Crystals
Rosemary Extract

Shipping

We ship via USPS Mail. Please give 3-5 business days to process and ship out your order.
Share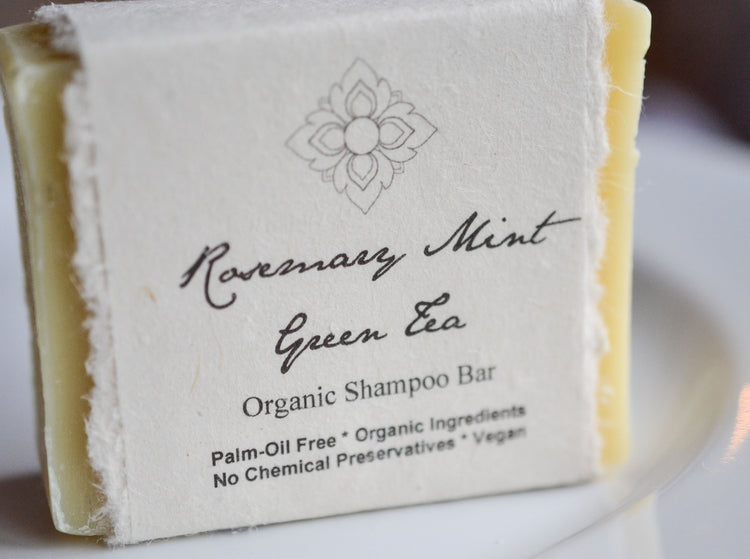 You can feel it.
This one I really like. You can feel the mint on your scalp when your shampooing. It feels invigorating. It leaves my hair and scalp in nice condition afterwards as well. If you read the ingredients there are many believed to be good for the scalp and hair follicles.
amazing products
I found these products at a holistic shop in the OBX, NC, this green tea & rosemary shampoo bar was the first shampoo bar i ever bought and i was skeptical about how they would work with my hair. I can now confidently say I will never be purchasing shampoo that comes in plastic bottles again, and more so Unearth Malee is the only brand of shampoo bars I will continue to use. My hair is the healthiest it has ever been and i couldn't be more pleased with this small business' products. I recently ordered more shampoo bars and soaps to try out and i am so excited! absolutely impeccable customer service, and everything is packaged so securely and beautifully! Unearth Malee also added free samples which made my day even brighter! Thank you!!!
Love these
I originally found these products through Etsy and love them. Use the Rosemary and Thai Lime shampoo bars because they leave my hair clean and bouncy, no more brittle breakage and no itchy scalp. Commercial shampoos are just not good for your hair or skin, much less the plastics for the environment.
of the makers clean ingredients, processing and packaging
good local product
I've been a customer for a couple years now, and this is my favorite shampoo bar. I'm happy to support a local business that uses good ingredients in their product.